Pro Leaf is slowly collecting new gems, little features currently focused on improving your productivity as a SiteTree's user. This time around it's the Ghost Pages feature of SiteTree to see an uplift: Pro Leaf 1.2 makes Ghost Pages easier to spot, and faster to flag.
But, What's a Ghost Page?
Ghost Pages were introduced with SiteTree 3.1 as a way to hinder the crawling of Pages not intended to be in the public domain, or anyway not supposed to be easily discoverable by software robots in general.
Ghost Pages are such that SiteTree carries out a number of very targeted SEO-related tasks whenever a Page steps in the club:
Excludes the Page from all the sitemaps and the shortcode-generated hyper-lists.
Prevents the WordPress Super Cache plugin from caching the Page.
And disallows the crawling of the Page without showing up its path into the 'robots.txt' file generated by WordPress.
Actually, creating sitemaps isn't the only ground of expertise of SiteTree. Still few, but needful SEO-specific functionalities like Ghost Pages are mastered by SiteTree as ably as its chief features are. But don't take my word for it, SiteTree is open source!
They Are Easy to Spot, Now
One of Pro Leaf's duties is to add a custom column, named 'Excluded From', to the 'Pages' screen of WordPress. The column is populated by a varied array of badges that represent the resources from which a Page has been excluded — resources such as the Site Tree, the Google Sitemap, the Google News Sitemap and the shortcode-generated hyper-lists.
With Pro Leaf 1.2, a new grey budge labelled 'Everywhere' can be seen to rest quietly in the 'Excluded From' column. This badge is meant to make Ghost Pages much easier to catch sight of. In fact when a Page is flagged as Ghost Page, the stack of badges linked to that Page are replaced en block with this new badge, so that more information can be conveyed, with less.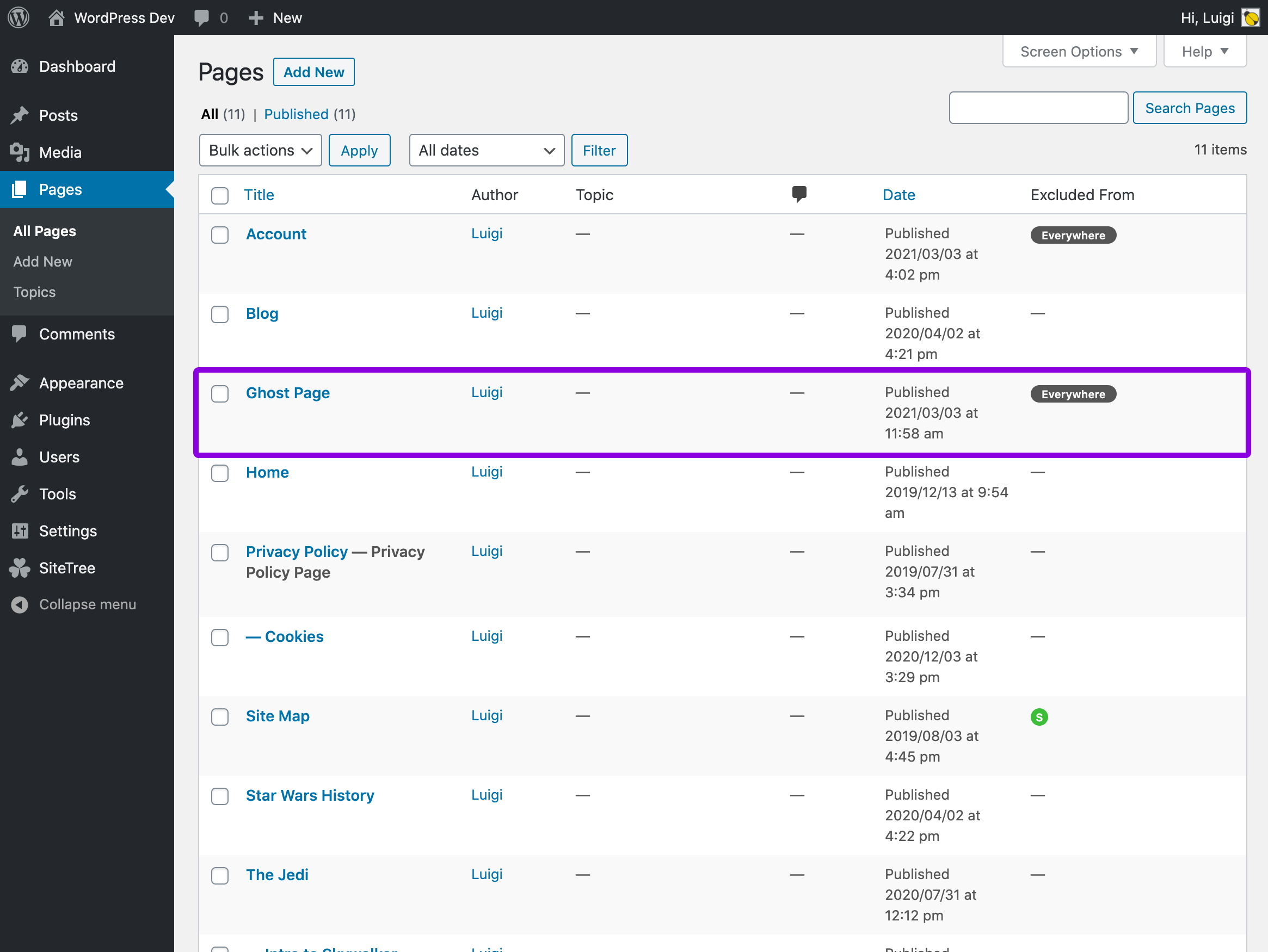 And They Can Be Flagged in Bulk
By leveraging the Bulk Edit UI of WordPress, Pro Leaf 1.2 lets you greatly speed up the process of bulk flagging pages as Ghost Page. Also, switching a number of pages from the status 'Excluded from...' to that of 'This is a Ghost Page' is now a matter of a few clicks all freed on the same screen, the 'Pages' screen of WordPress.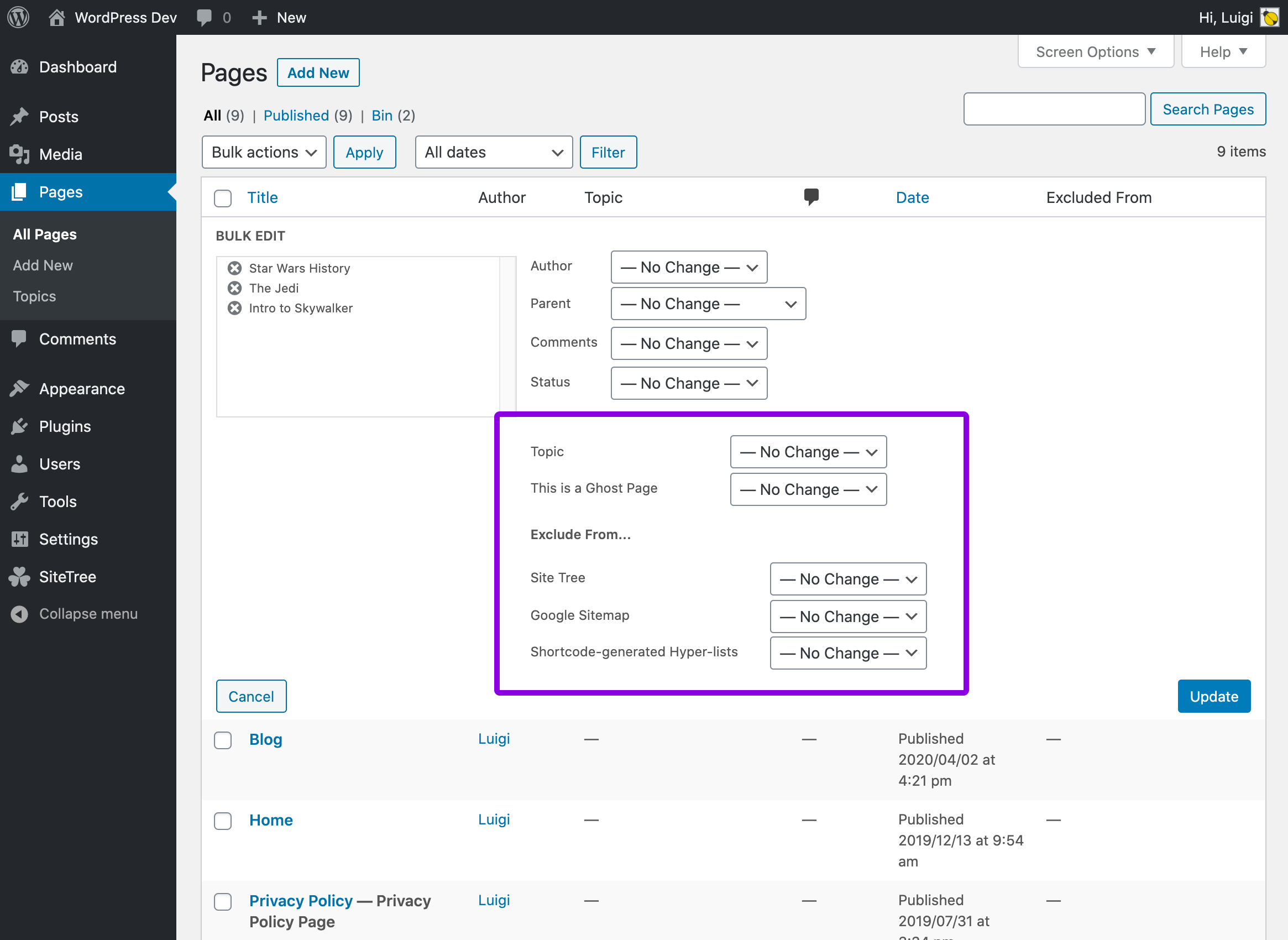 What Will Follow
Starting from tomorrow, I'll begin to work exclusively on SiteTree 6.0, that should be ready by the end of the next month, but first I want to confide to you something: in striving to give usefulness to my life, only pursuing my dreams and sharing my trip with my family are more important than reading your feedbacks. Remember that, the next time you are tickled by an idea for bettering SiteTree or one of its Leaves.